Vanuatu Permanent Residency Approved in just 5 days
Ten Year Permit for individuals just US$8,500 or a family of four just US$14,950.
ALL FEES INCLUDED
.
The fastest investors permanent residency program in the world with a 5 day processing time.
All application documents can be scanned and processed securely via email.
Process confidentially and securely with the official representative of the Vanuatu Governments PR Program.
We are Vanuatu's longest established Residency and Citizenship firm established in 2004.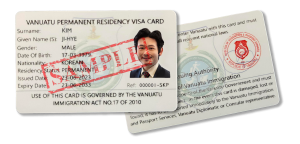 Benefits
PR is granted to applicants and their families for 10 years and is renewable or can lead to citizenship through naturalisation.
Simple Application
No language requirement
No Income Requirement
No annual renewal fees
No requirement to visit or reside in Vanuatu to obtain PR
For those requiring proof of residence of another country for education purposes, Vanuatu PR will satisfy these requirements.
For those looking for a safe and secure alternative residence, with Vanuatu Permanently Residency (PR) you can enter and live in Vanuatu at any time.
PR in a commonwealth country close to New Zealand and Australia.
Get More Details Now!