The Cost, Fees and Process
Stanford Knight is the official Vanuatu Government Master agent meaning our clients do not pay additional processing fees.It also means you have the advantage of faster processing time as we ensure the prompt and efficient delivery of your application to the Vanuatu Citizenship Commission offices, a mere few blocks away from the Stanford offices in Port Vila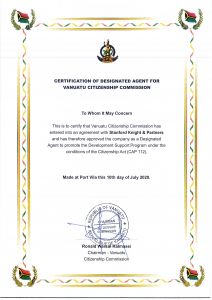 As a master agent, our citizenship Fastrack process will take as little as 4 weeks from receiving initial documents.
Stanford Knight and Partners operate fully audited secure banking trust accounts in Vanuatu to ensure client payments are secure and released only once approved by the Citizenship Commission.
If you are processing your application through any firm that is not a direct agent, and they offer you a " discount" or "special price" below the government-mandated minimum fees, then immediately cease doing business with them. That is illegal, the company may be penalised and any citizenship issued in this manner will be cancelled.
Download a PDF brochure of  the fee schedule here  SKP Fees
We process client applications faster than any other service provider and ensure you are completely informed along the way.